Backtrace Improvements and New Features in 2023: Issue-based Alerts
Backtrace is excited to announce an improved way to set up and receive alerts with a new feature: Issue-based alerts. With issue-based alerts, you can monitor critical issues or get notified when a specific type of event occurs. Whether you would like to open a new issue in your ticketing system (like Jira) or receive an alert in Slack when a specific issue is detected, we got you covered.
What's new with Issue-based Alerts?
We have listened to our customers' feedback and improved the way our users can create alerts. It is now easier to set up an alert compared to the previous process, and we have added two specific triggers that most of our users wanted based on a user threshold and error threshold.
"In the old method of setting up alerts, the filter rules had to be defined which were hard to understand, and you had to replicate it for each integration. Additionally, it didn't have the two triggers that people wanted. That's why, we have now added a user threshold and error threshold."
Peter Shao, Senior Product Manager, Backtrace
Alert Trigger Conditions
Currently, there are four conditions under which an alert can be triggered. You may choose to trigger an alert when a new error is detected or when a new fingerprint is detected.

Additionally, you can also define thresholds to only be notified if a large number of users are affected within a specified time period or when there are significant errors under the same root cause within a specified time period.
Alert Attributes
You add filter attributes to the trigger criteria. For example, you may choose to trigger an alert when a specific version is impacted, or if it occurs on a specific platform or a device. Moreover, you can also add a condition that detects a specific error type.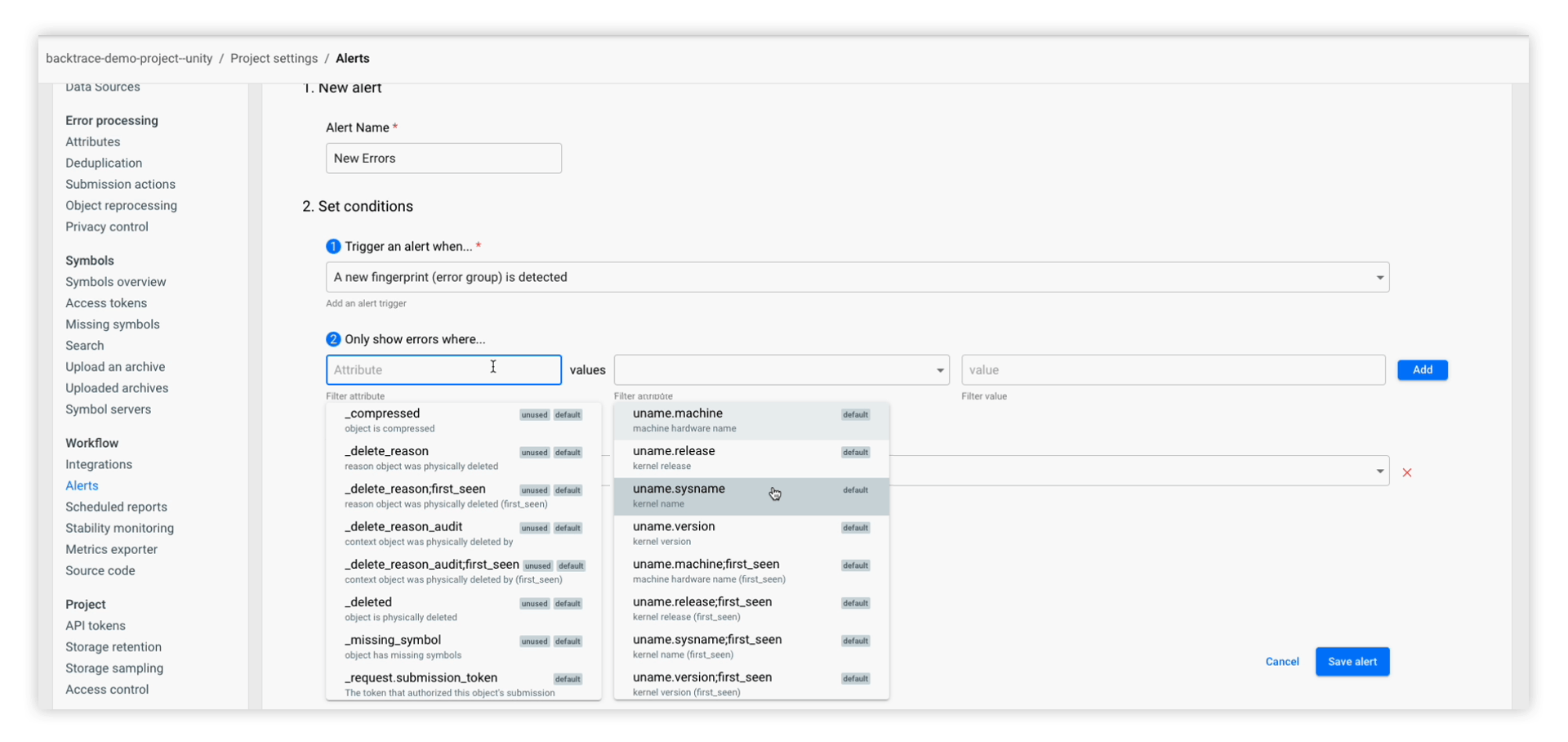 In the example below, the alert will get triggered when it occurs on PS5 platforms.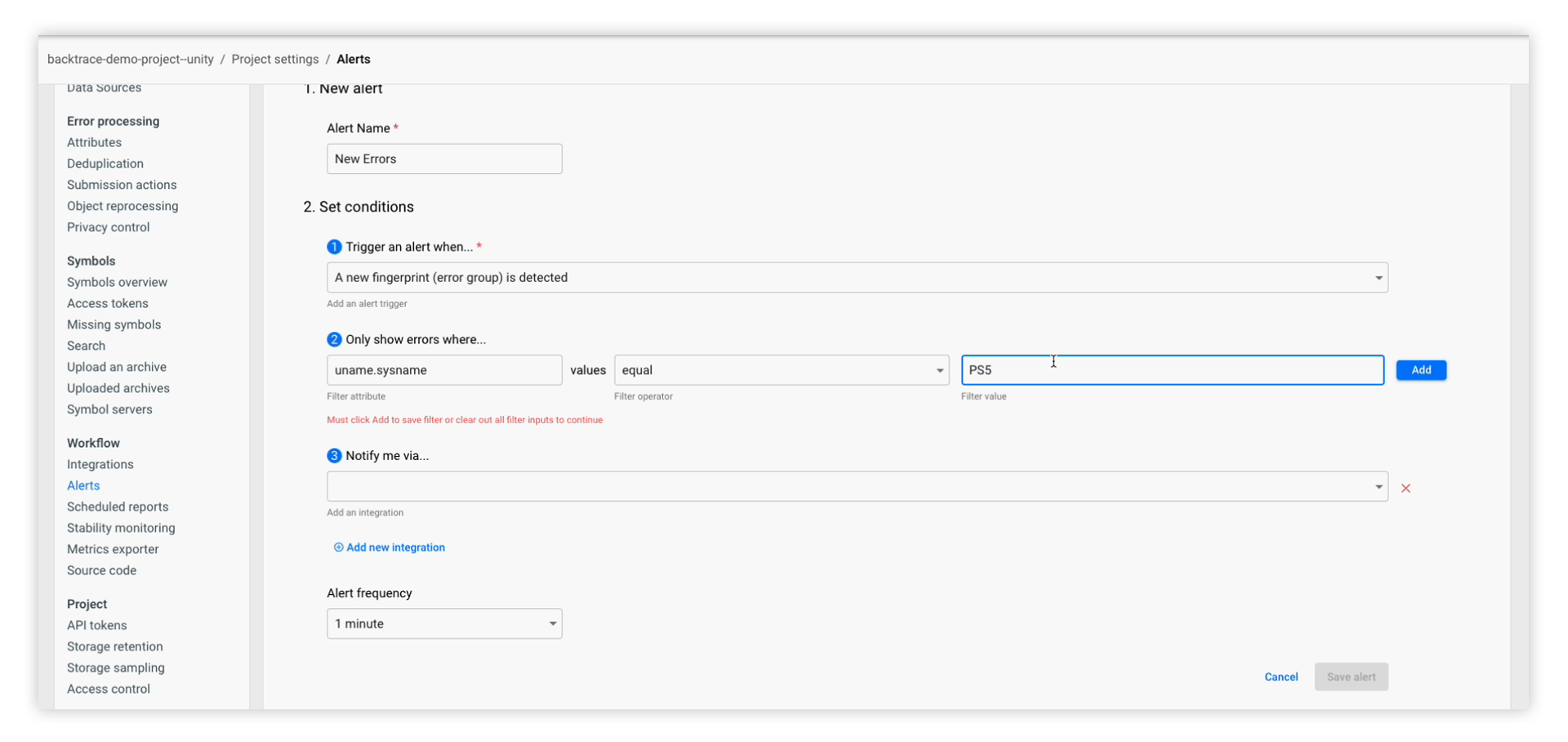 Setting up an issue-based Alert
Under Project Settings, navigate to 'Alerts' under the 'Workflow' section and click 'Create Alert' button.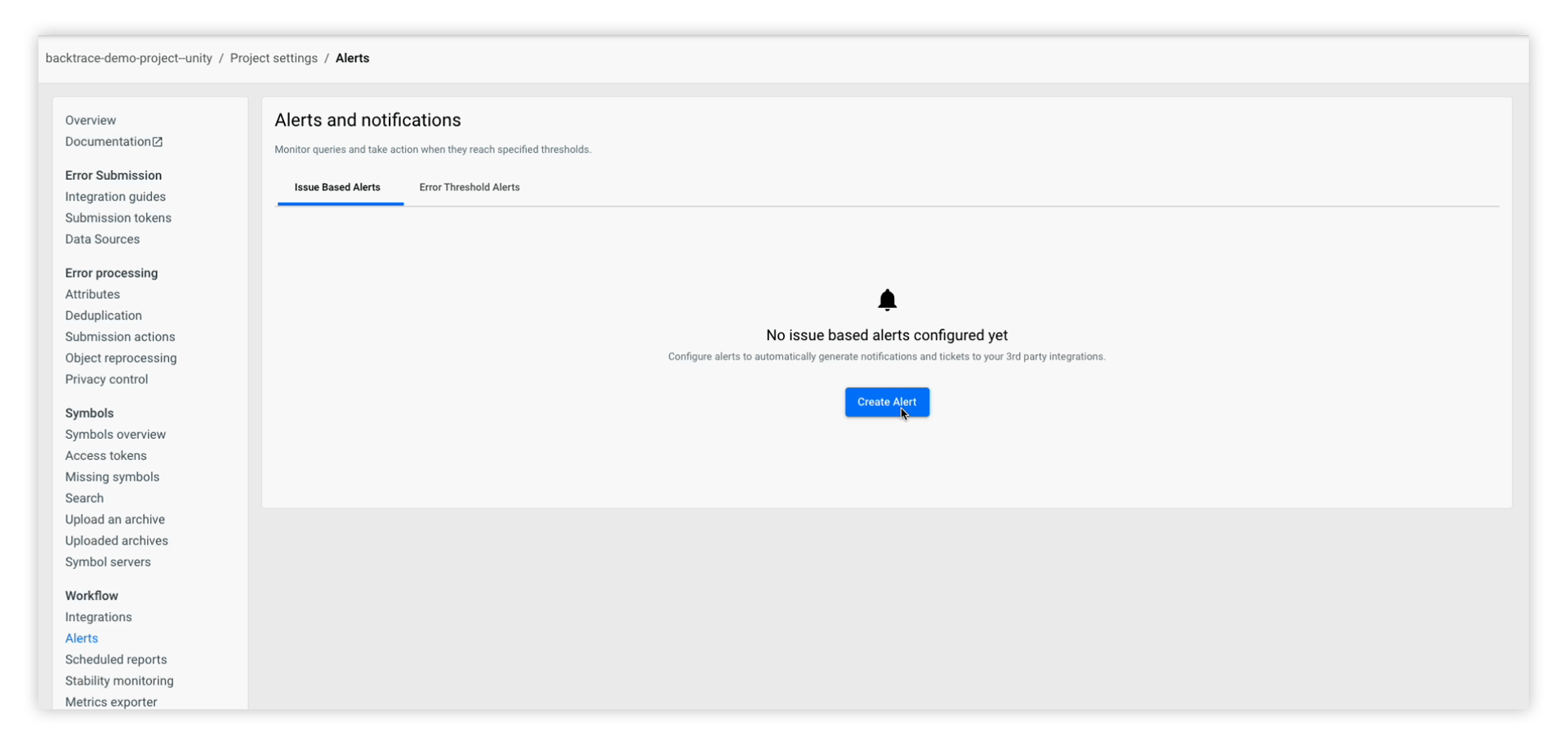 Next, enter a name for your new alert, set the trigger conditions and filter attributes.
You may add more than one attribute, if necessary. Click on 'Add' button after defining each attribute.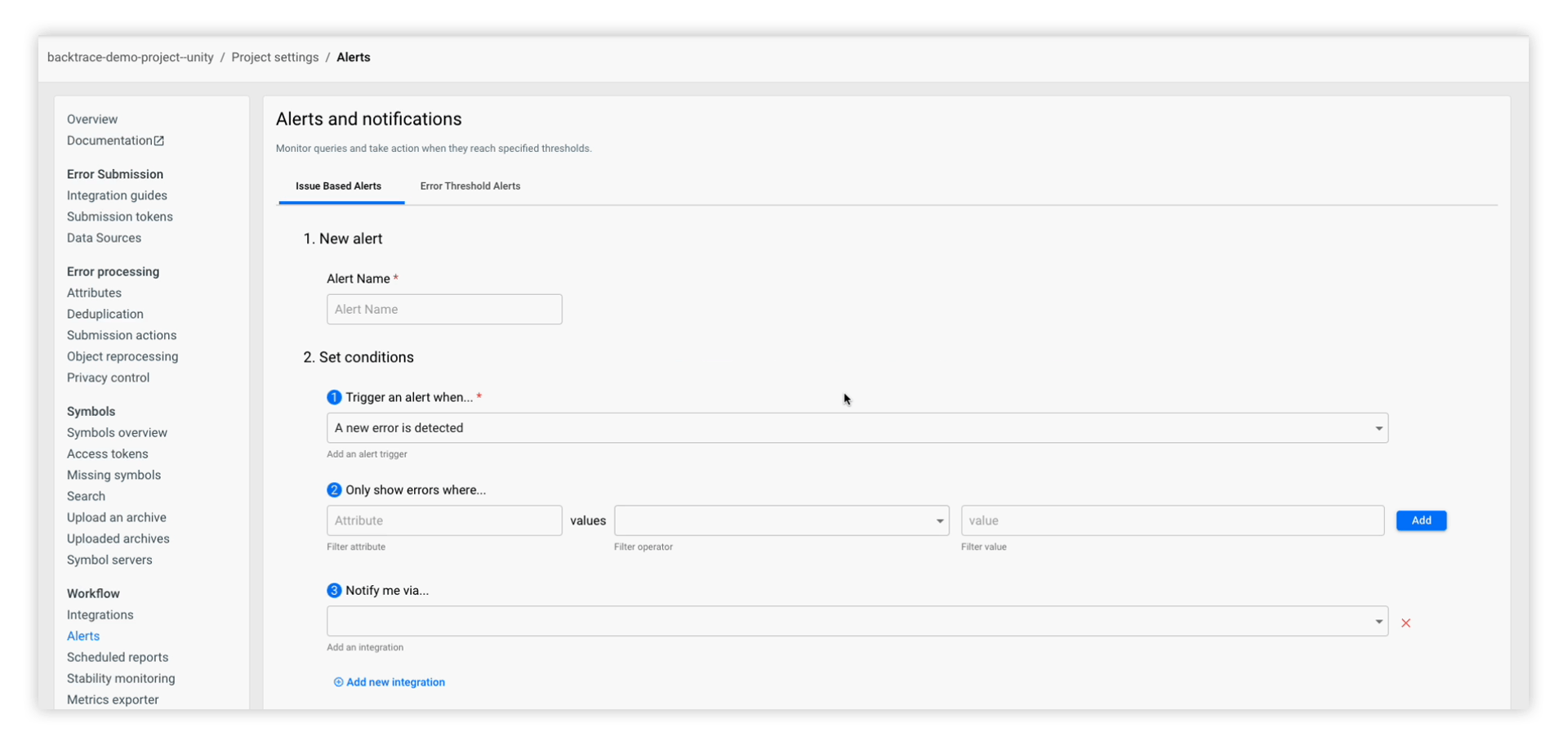 Next, choose how you would like to be notified via one of the integrations. If you do not have an integration added, you may choose to add an integration first before continuing with setting up the alert. In the example below, a Jira integration is selected but it is possible to select any supported integration.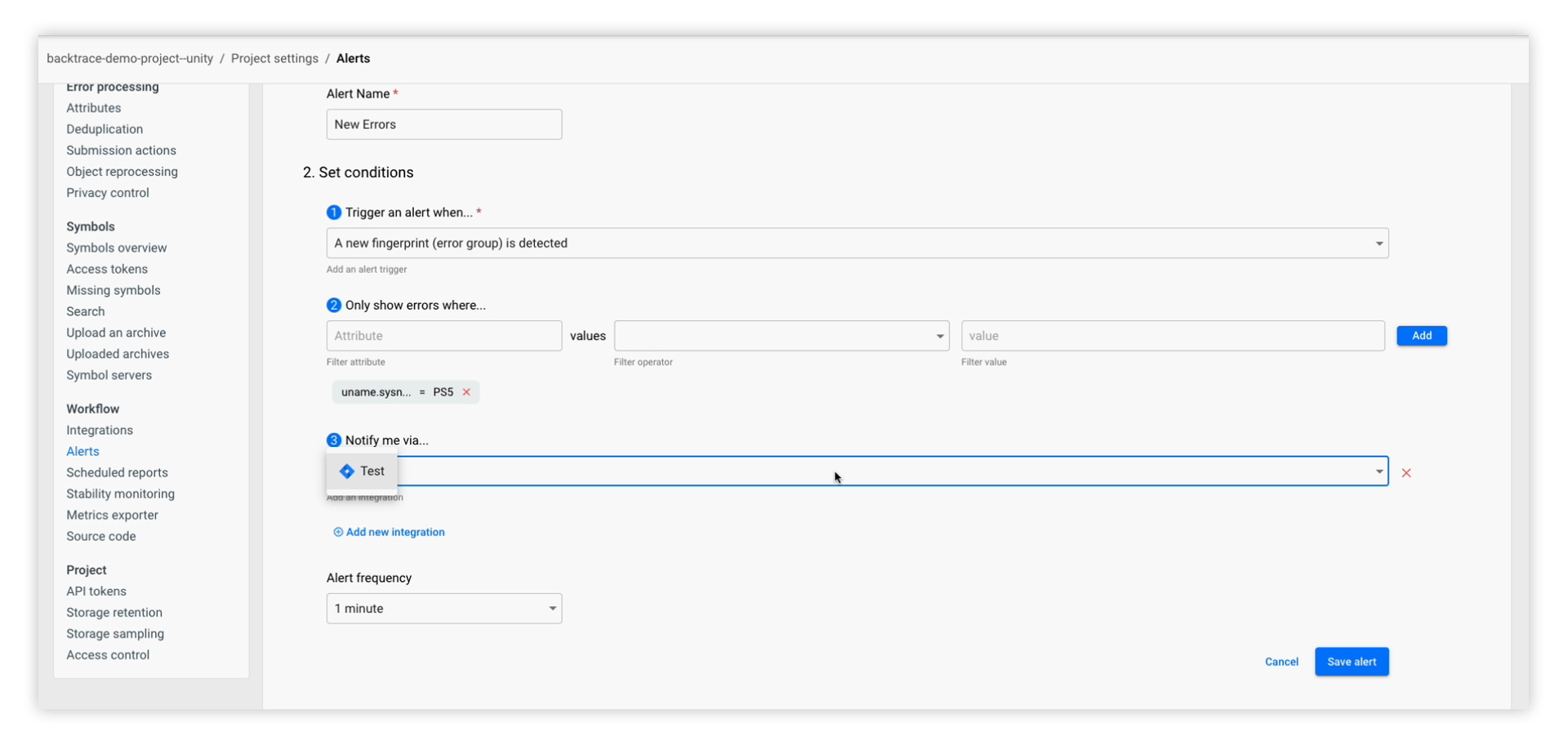 Next, you will have to select the 'Alert frequency', which is the maximum duration you want Backtrace to review.
Click 'Save alert' to save the new alert.
Once the alert has been created, it will appear under the 'Alerts' page.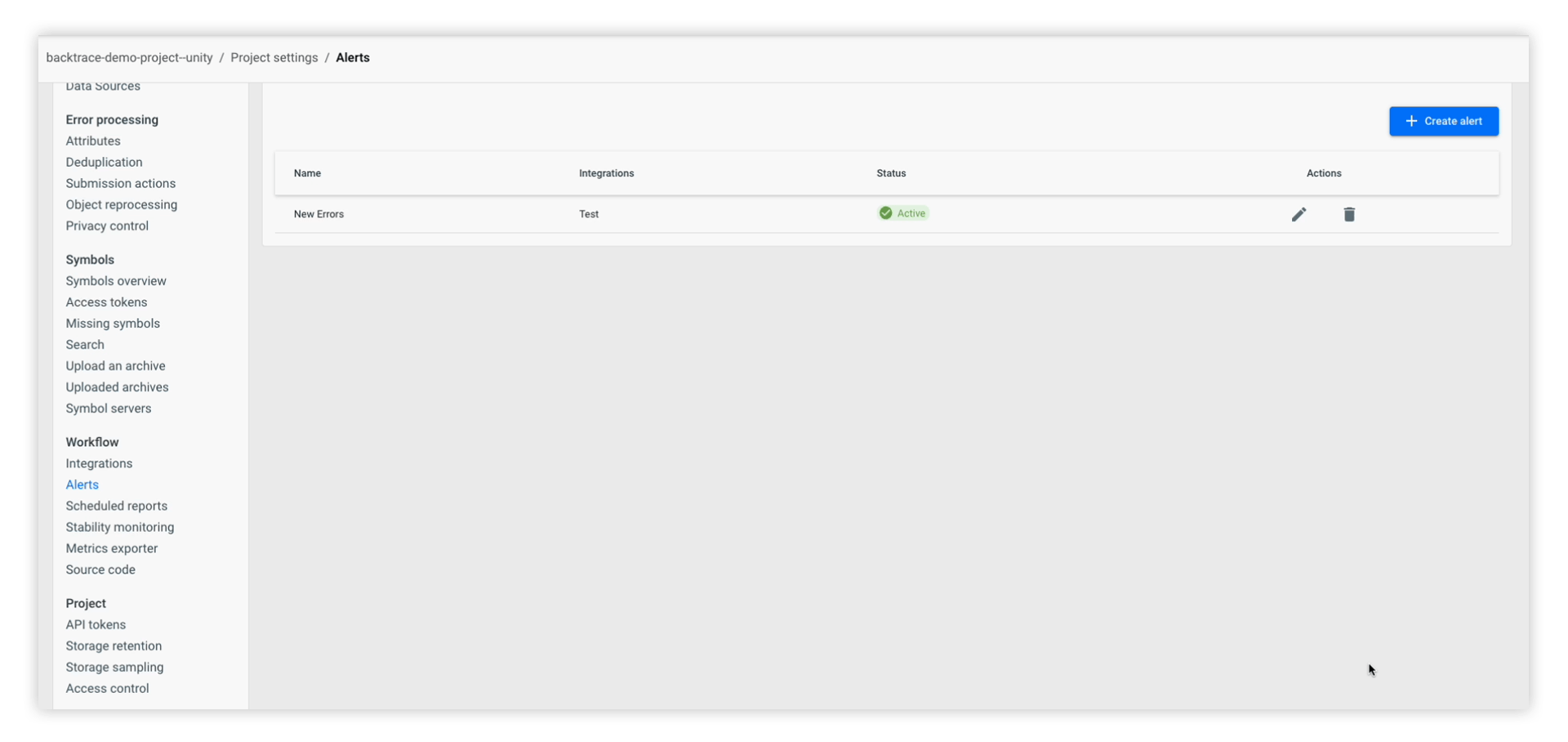 Try Backtrace in your next project
If you have not used Backtrace yet or if you are using another tool, new features like issue-based alerts and continuous improvements to our product including integrations like Jira are reasons you should be using Backtrace in your next project. You can get started with a free trial of the Backtrace by signing up here.
Next: Backtrace Dashboard Upgrades
Our team has been hard at work making significant upgrades to the Backtrace dashboard, including a refreshed look and new features that make it even easier to manage your error data. Keep reading to learn more about these exciting updates here.